Cincinnati Printers is happy to support our customer's effort in getting this great product out to market! Jim Adorney,  founder of LunchBox Buddies, has first hand knowledge the impact his product has on his audience -because they are his own children!  His products are notepads with various quirky cartoon characters and a simple fun message to lighten the lunchtime hour. Parents can use them to strengthen the connection to their kids midday while kids can decorate them, trade them or just enjoy the quirky sentiment with a giggle.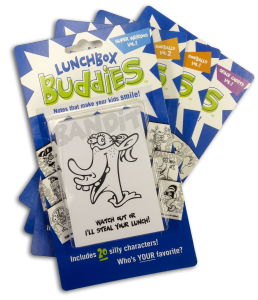 Cincinnati Printers prints, collates and pads the notes for our client. Then we blisterpack them with internally procured blister shells. The most challenging factor in producing this awesome product is keeping the tight QC needed because of the multiple images and volumes involved.  
You can watch Jim explain the product in more detail on the upcoming morning show on November 8th, around 9:00 AM (time is approximate based on the morning schedule). The show is Indy Style, a morning segment on WISH TV in Indy (the CBS affiliate there). 
As of now, Lunchbox Buddies are sold mainly in southern MA and NY with hope to expand to markets across the nation.  Please pass the word and get some for yourself here:  www.lunchboxbuddies.com.