Strawzzle…Avert the Squirt!
Our valued client, an engineer by trade, came to us about a year ago with his wonderfully useful, creative product – Strawzzle.  It is a beverage straw created specifically to prevent spills and squirts from the commonly used juice bags and boxes. Strawzzle's unique, patented design has a built-in reservoir that traps beverage, allowing it to flow while drinking but holds it back if the container tips or is squeezed. Our client and his brand manager teamed to launched the product. The daunting effort to weed through the many sources to manufacture and package the product seemed to be one of the hardest of tasks. They zeroed in on both sources earlier this year after much comparison. CP won out over the competition and has had the pleasure of seeing this product through to market.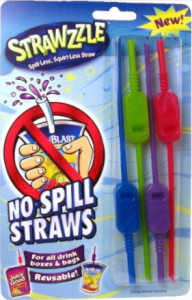 CP helped with the structural design of the blister card, created sales samples to present to the potential clients, printed, coated and diecut the cards, provided the blister shells and blister packaged on-site. We distributed the first shipment last month to ATA. The retailer now has the product selling in the following stores: Save a Lot, Albertsons, Jewel-Osco, Shop 'n Save, Shaw's Star Market, ACME, SHOPPERS, Cub Foods, Farm Fresh, Hornbacher's and Lucky stores.
See a product demo at: www.strawzzle.com. Like them on Facebook and Twitter…pass the word to Avert the Squirt!